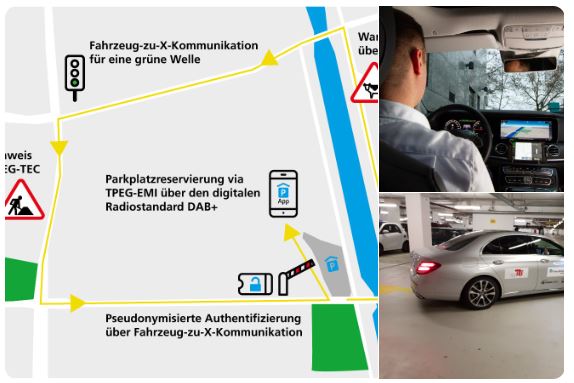 Berlin, December 6th 2018
The closing event of the research project iKoPA is currently taking place in Berlin under the project management of htw saar. The iKoPA project consortium presents the project results of the iKoPA research project in the form of a driving demonstration at this year's symposium "Research and Technology for Automated and Networked Driving" by BMWi and BMBF in cooperation with BMVI in Berlin.
The conference will take place from Thursday, 2018-12-06, 13:00 hrs to Friday, 2018-12-07, 17:00 hrs, the iKoPA demonstration will be held in advance, each Wednesday, 2018-12-05, from 15:00 hrs to 18:00 hrs and Thursday, 2018-12-06, from 09:00 hrs to 12:00 hrs.
Within the framework of this demonstration, various cooperative applications will be shown that offer added value especially for networked-automated electric vehicles. These include, for example, a pseudonymous reservation of charging stations, camera-supported navigation in the car park, pseudonymous authentication of the vehicle at the car park via V2X and communication of charging station information via DAB+.
Guests at the closing event of the iKoPA project will test networked electromobility around our institute and in the multi-storey car park. The vehicles communicate with traffic lights or barriers. The FGVT was responsible for the system architecture and the communication solutions as well as the consortium management.
Fraunhofer FOKUS owns the image rights https://twitter.com/fraunhoferfokus/status/1070591148253741057