simTD – secure intelligent mobility test field Germany
Shaping the future of road safety and mobility with car-to-x communication.
By researching and testing car-to-x communication and its applications, the simTD research project is shaping the safe and intelligent mobility of tomorrow.
The simTD project applies the results of previous research projects. To this end, realistic traffic scenarios will be addressed in a large-scale test field infrastructure around the Hessian metropolis of Frankfurt and the political, economic and technological framework conditions will be prepared for a successful introduction of vehicle-to-vehicle and vehicle-to-infrastructure communication.
In order to achieve these goals, numerous companies from the automotive and telecommunications industries, the state government of Hesse and renowned universities and research institutes have joined forces as partners. Sponsors and supporters are the Germans Ministries of Economics and Technology, Education and Research as well as Transport, Building and Urban Affairs.
Car-to-X communication: For safe, intelligent mobility.
Identifying traffic obstacles before you see them. Recognizing dangers before they become a threat. Reach your destination quickly, safely and relaxed. This vision of safe, intelligent mobility is the motivation behind the simTD research project. This is to be achieved through the electronic connection of vehicles and infrastructure, so-called Car-to-X communication.
Car-to-X communication allows information to be exchanged both between vehicles and between road users and traffic centers. In this way, subsequent and oncoming road users are informed about potential hazards in order to be able to react to the situation in a timely and appropriate manner.
Using Car-to-X communication, anonymous information on the traffic situation is also transmitted to the traffic centers so that the roadside infrastructure can be optimally switched and further traffic developments can be reliably forecast.
The information thus obtained is made available to the road users, who are then able to adjust their routes accordingly and reach their destinations comfortably and safely.
Vision
Road safety
Traffic efficiency
Integration of value-added services
Field of activity and research focus
Every year, congestion in Germany causes economic costs of around 17 billion euros (EU Commission estimate). At 410,000 and 4,500 respectively (Federal Statistical Office), the number of people injured or killed in traffic accidents is still very high despite all the improvements in the active and passive safety of motor vehicles.
According to many experts, the situation can only be further improved by supplementing autonomous vehicle systems with communication-based approaches. Car-to-X communication is being tested in Germany in a wide-ranging field trial. The choice for a suitable test field fell on the federal state of Hesse, which offers ideal conditions for a meaningful practical test due to its existing infrastructure.
The research project focuses on the technological implementation and testing of a hybrid communication system. In addition to known mobile radio technologies, this includes a system adapted for automotive purposes, which is based on the well-known WLAN standard. With the help of this hybrid communication system, the effectiveness of Car-to-X applications will be investigated. Important in this context is the continuous linking and seamless integration into an overall system of vehicle, communication and traffic technologies. Another important aspect of simTD is to investigate suitable introduction scenarios and operator models for car-to-x communication systems. The integration of value-added services and commercial applications also plays a role in order to support the rapid market penetration of car-to-x communication.
Aims
The content concept of this project is based on the following main objectives:
Increase of traffic safety and performance of the existing traffic network through the use of Car-to-X communication.
Definition and validation of an implementation scenario for the described functionalities and applications.
Answering scientific questions in a practice-oriented test and experimental field.
Consolidation of Car-to-X functions from the areas of traffic efficiency, driving and safety as well as supplementary services.
Definition, analysis, specification and documentation of the functionalities to be achieved and tested and the resulting requirements on the overall system for selected functions and tests within subproject.
Development of test and validation metrics and methods at each stage of the overall system development in order to measure and evaluate the result.
Consolidation and harmonization of the requirements in terms of feasibility and performance and their agreement with the sub-projects.
Verification of functionalities and requirements within the framework of individual milestones.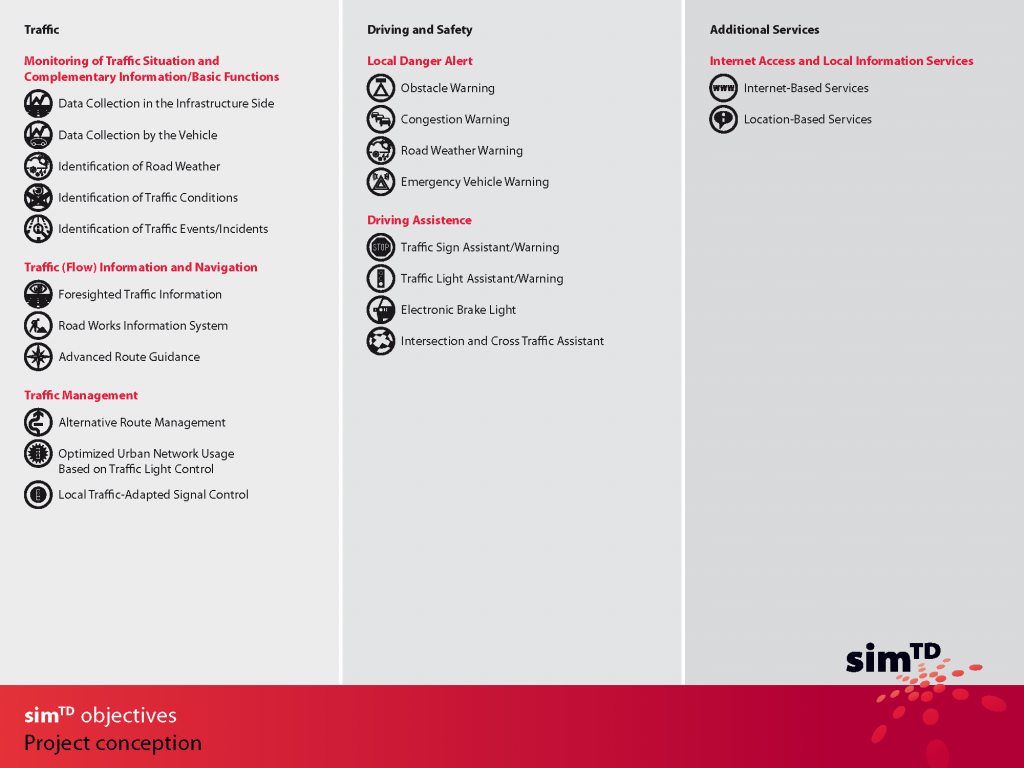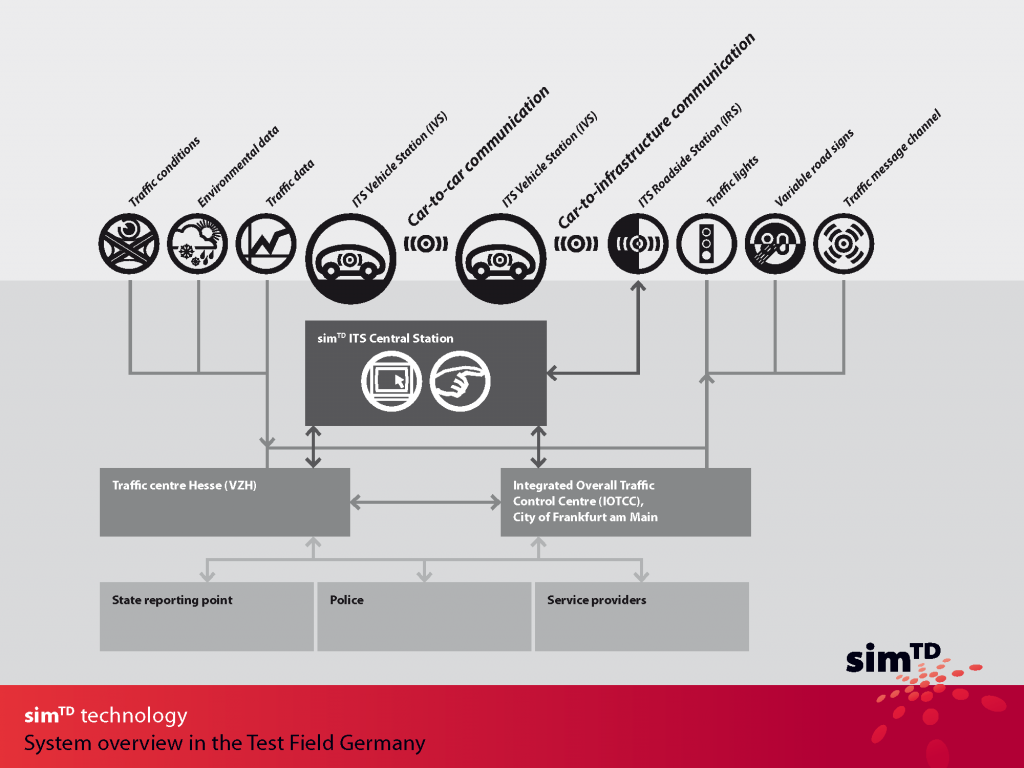 Connection and implementation
The decisive research and development achievement of simTD lies in combination and integration of vehicle, communication and traffic technologies into a holistic system.
This involves researching and ensuring that vehicles recognize information about driving conditions or risks on a uniform basis and forward this information in a targeted manner so that it can be implemented promptly in traffic-influencing measures such as variable message signs or vehicle systems.
Economic aspects – market launch scenarios
Another important focus of the project is the identification and evaluation of viable operator models for a successful market launch. This can only succeed if the added value of an appropriately equipped vehicle is demonstrated to the customer at an early stage and in a concise manner.
In simTD , leading automotive and telecommunications companies as well as public institutions have joined forces to form a strategic alliance. Based on the test results, various scenarios and operator models – for example within the framework of public-private partnerships (PPP) – are to be jointly examined and evaluated.
Testfield Germany
The simTD test field is located in Hesse in the Rhine-Main region. With several hundred ITS stations consisting of the ITS Vehicle Stations and ITS Roadside Stations, the Hessen Traffic Centre (VZH) and the Integrated Traffic Control Centre Frankfurt (IGLZ), car-to-x communication is to be tested under real conditions here. The vehicles of the simTD test fleet exchange information via radio with each other, with traffic lights, traffic signs and with the traffic control center.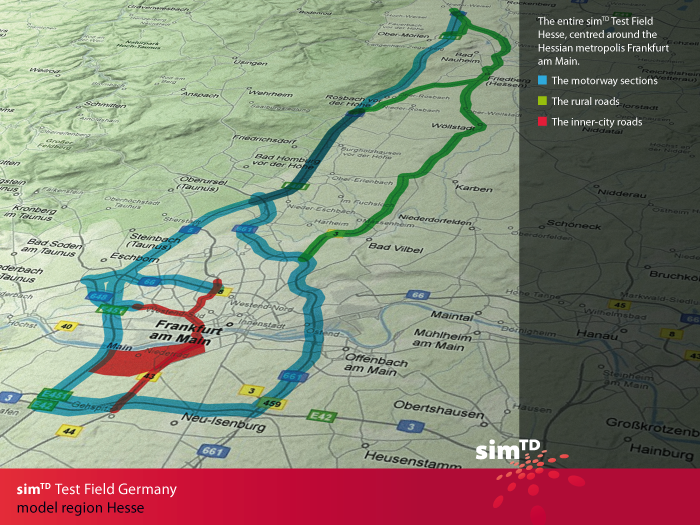 As an important German traffic hub with major traffic generators such as airports, trade fairs and stadiums, the Rhine-Main region has a high volume of traffic, which enables research into all traffic safety and traffic efficiency functions in normal everyday operations.
In addition, the Hessen model region already offers excellent infrastructure equipment for traffic recording and control systems as well as all relevant road categories that can be transferred to other regions.
Link to project video © simTD: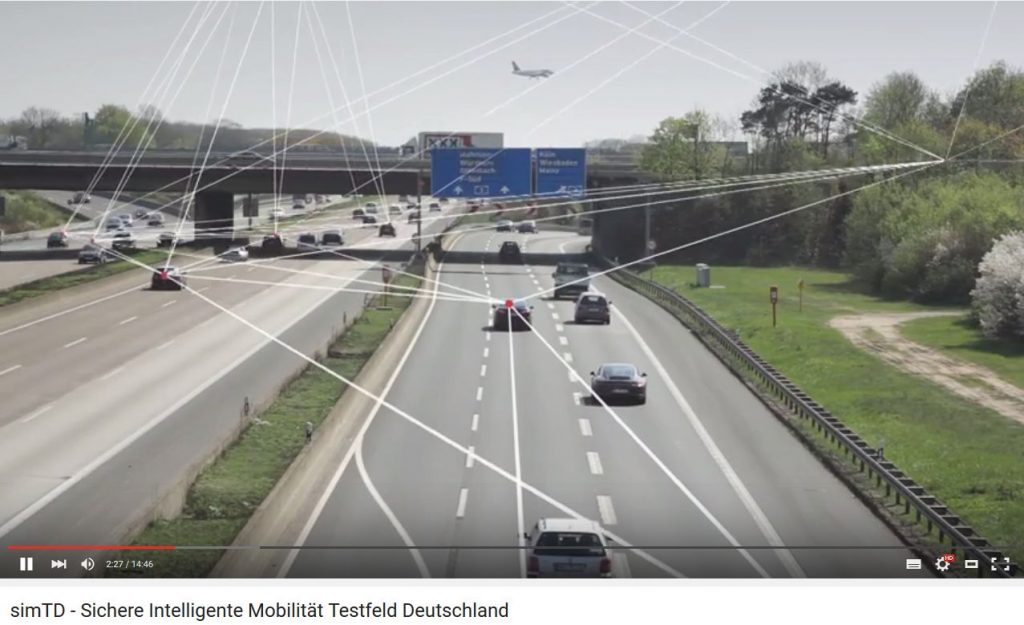 Further information and results on the web page: https://www.eict.de/en/projects/#project-19
Project duration
2008-09-01 until 2013-06-30
Project partners
Sponsored by: