FGVT at the State-of-Honor event of the Saarland during the CSITF in Shanghai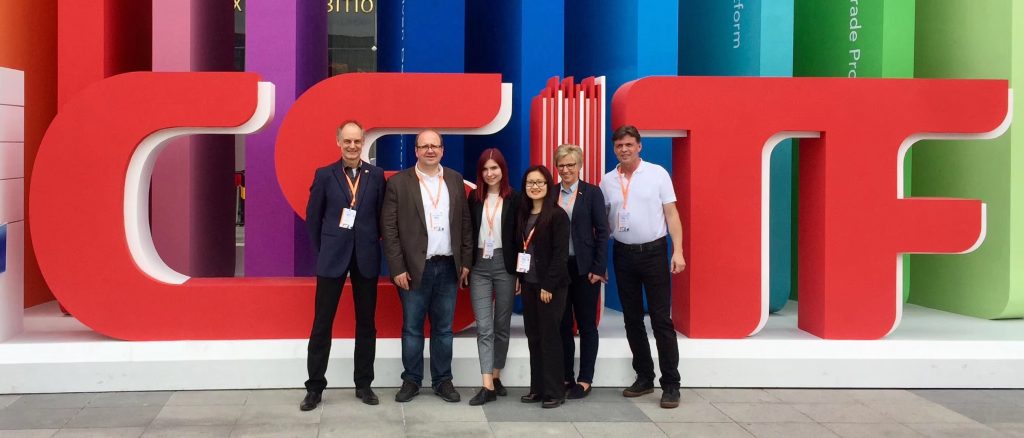 Shanghai/China, April 18, 2019
The China (Shanghai) International Technology Fair, or CSITF for short, was held for the seventh time from 18-20 April 2019. The German state of Saarland had the honour of participating in the CSITF as guest of honour and of being represented in China by 19 Saarland-based companies and research institutes from all sectors of industry and of introducing themselves. The FGVT could gain positive experiences on the occasion of this Saarland appearance at the technology fair in Shanghai. Together with the companies abat+, AIM Systems, AWSi, Dürr, Global Retool Group, Nanogate, RolfHartge and TÜV Saarland as well as the research institutes DFKI, Fraunhofer IZFP, EmRoLab and ZeMA, the German state presented itself in the 30 million inhabitants metropolis. Finance Minister Peter Strobel and the State Government Commissioner for Innovation and Strategy, Ammar Alkassar, were also guests at the Saarland stand. The Saarland stand was well received by the organisers and was awarded as one of the five best. The refined Maybach from the RolfHartge company was particularly popular and received the award "Most Beautiful Exhibit of the CSITF".
The Saarland presentation was initiated and organised by OuMengQiao GmbH, which has been providing young Chinese people with training opportunities in Saarland for several years now. OuMengQiao also offered the opportunity to be a guest at the car show in Shanghai.
Altogether a very enriching experience for the FGVT. Interesting discussions and the expansion of the network in China offer a good basis for further innovative project ideas.
A detailed travel report can be found here: https://www.oumengqiao.com/csitf-2019-saarland-state-of-honor/